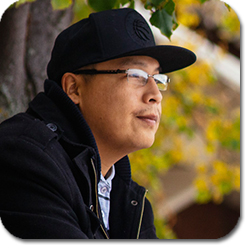 My name is Elijah Howard Sugarhead.  I'm 30 years old, and I'm from a small Oji-Cree reservation called Summer Beaver in Northwestern Ontario.  It's a fly-in reserve and the population is close to 500 people.
I moved to Thunder Bay in mid-November 2013 to pursue my education. I got accepted into the GED program, which I didn't pass but that didn't stop me. At the time, I was smoking a lot, and when I say a lot I mean a pack or two a day, king-size .  I got into another program right after my GED to get my OSSD instead.  It wasn't until the middle of the program when I realized that my unhealthy lifestyle played a role of me not completing my GED.   I wasn't motivated and I would lose focus with my assignments after my cigarette breaks.
One morning, my teacher came up to me and told me that I needed to finish all my assignments in the next two weeks or I'd be kicked out of the program.  I was already way behind, so I went straight home that late afternoon and I was thinking about everything, including my health.  I realized that I needed to forget about socializing, smoking or going out to party. Distraction was my weakness and  was preventing me from doing my work. I wanted my diploma, so I took the risk by being alone on this road to success and eventually it paid off.
 All I did is work on my assignments from day and night to keep me busy. It wasn't until a month later when I knew that I had stopped smoking cigarettes.  A friend had asked me for a smoke and I told him, "I don't smoke anymore".  I haven't touched them since, so I'm not looking back.
Now that I stopped smoking I'm more energized and full of passion. I'm determined to finish school and I'm focused on staying healthy. I started working out to keep my mind off smoking and other distractions. I'm so glad I was able to give up smoking by determination, being proactive and keeping busy with school and work. No cheats.  It saved my health and probably my life too.
Now that I'm a non-smoker, I tell smokers that I stopped and they always encourage me to keep it up. When they ask how, I tell them the same story I told you. So it feels good not to smoke and I feel cooler than before with my shades on.
3 years later, I'm still not smoking cigarettes and I decided to go even further with my education. I went straight to college and I did not waste any time. I didn't think I'd ever go to college, but now I'm here finishing off my last semester (2017) then I'm done.
Mission accomplished. #workhard #playhard