Summary
Blacklegged ticks in TBDHU can carry B. burgdorferi, the causative agent of Lyme disease. Consider Lyme disease on the differential for patients with compatible signs and symptoms.
Although blacklegged ticks in TBDHU can carry B. burgdorferi, it is still uncommon. Post-exposure prophylaxis is not required for tick bites acquired in TBDHU.
The decision to provide post-exposure prophylaxis depends on when and where an individual acquired a tick bite, and the decision to provide treatment depends on compatible signs, symptoms, and testing. Whether a tick tests positive for B. burgdorferi does not inform prophylaxis or treatment.
Background
In our area, the most common type of tick is the wood tick (also called the dog tick); however, the number of blacklegged ticks is increasing in our area.
Blacklegged ticks can carry the spirochete bacteria Borrelia burgdorferi, the causative agent of Lyme disease.  Blacklegged ticks must be attached for at least 24 hours to transmit B. burgdorferi.  Over the last 11 years, 7% of blacklegged ticks submitted to TBDHU have tested positive for B. burgdorferi, although there have been no confirmed cases of human Lyme disease acquired in TBDHU.
Removing an Attached tick
Grasp the tick with tweezers as close to the skin as possible. Pull directly upwards to remove the tick. Clean the bite area. 
Algorithm for Managing a Patient with History of an Attached Blacklegged Tick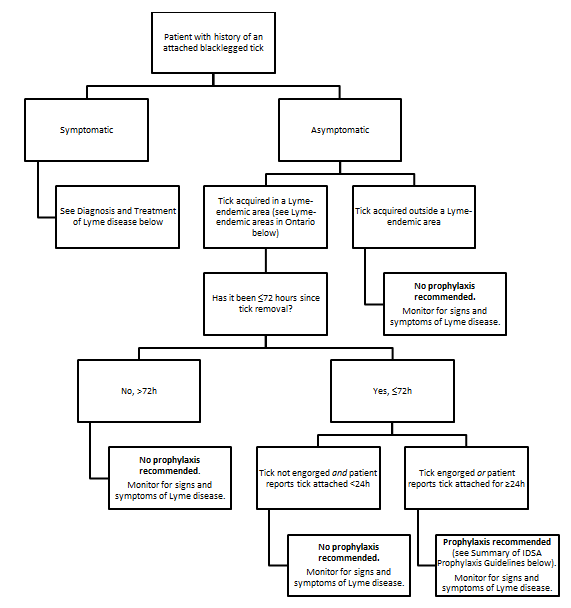 This algorithm applies to tick bites acquired in Ontario; see "Resources for assessing travel-related blacklegged tick bites" below for blacklegged ticks acquired outside of Ontario.
Diagnosis and Treatment of Lyme Disease
Lab testing is not sensitive in early localized disease, which typically presents with erythema migrans and flu-like symptoms 1-2 weeks following the bite of an infected black-legged tick. Early localized Lyme disease is a clinical diagnosis, and is still reportable to TBDHU under the Health Protection and Promotion Act even if lab testing is negative.
Lab testing is sensitive and specific in early disseminated and late Lyme disease.  More information on testing is available from Public Health Ontario (or visit http://www.publichealthontario.ca and search for Lyme disease).
Note that patients can submit the tick to TBDHU for species identification and testing; however, this testing is not timely enough to inform immediate clinical management. Ticks removed from humans can be submitted to any TBDHU office.
Lyme disease treatment guidelines are available from the Anti-infective Guidelines for Community-acquired Infections ("Orange Book") by the Anti-infective Review Panel, or the IDSA Guidelines (Wormser et al., 2006).
Lyme-endemic Areas in Ontario
The Infectious Disease Society of America (IDSA) defines a Lyme-endemic area as one where the prevalence of B. burgdorferi in blacklegged ticks is greater than 20%. In Ontario, the following areas meet this definition:
Brighton
Kenora and surrounding area
Kingston and surrounding area
Long Point peninsula
Ottawa and surrounding area
Pinery Provincial Park on the shore of Lake Huron
Point Pelee National Park
Rainy River and surrounding area
Rondeau and Turkey Point provincial parks
Rouge Park and Morningside Park in the Greater Toronto Area
Thousand Islands, Brockville, Perth-Smith Falls, and surrounding areas
Wainfleet bog near Welland on the Niagara Peninsula
Note that Lyme-endemic areas are re-assessed regularly, and this list may be incomplete or out-of-date.
Summary of IDSA Prophylaxis Guidelines
Consult IDSA Guidelines for more information
Age
Recommended prophylaxis
Contraindications
>12 years
Doxycycline, 200 mg po x 1

Pregnancy
Lactation
Allergy or sensitive to doxycycline

8-12 years

Doxycycline, 4 mg/kg (maximum, 200 mg) po x 1*

 

*Recommendation for prophylaxis in this age group is based on data from children ≥12 years old

Allergy or sensitive to

doxycycline

<8 years

Prophylaxis is not recommended in this age group because "of the absence of data on an effective short-course regimen for prophylaxis, the likely need for a multi-day regimen (and its associated adverse effects), the excellent efficacy of antibiotic treatment of Lyme disease if infection were to develop, and the extremely low risk that a person with a recognized bite will develop a serious complication of Lyme disease" (Wormser et al., 2006).*

 

*If a practitioner would like to provide prophylaxis, however, the following regimen can be used: Amoxicillin, 50 mg/kg per day in 3 divided doses (maximum 500 mg per dose) x 10 days in children without an allergy or sensitivity to amoxicillin

 
Resources for Assessing Travel-Related Blacklegged Tick Bites