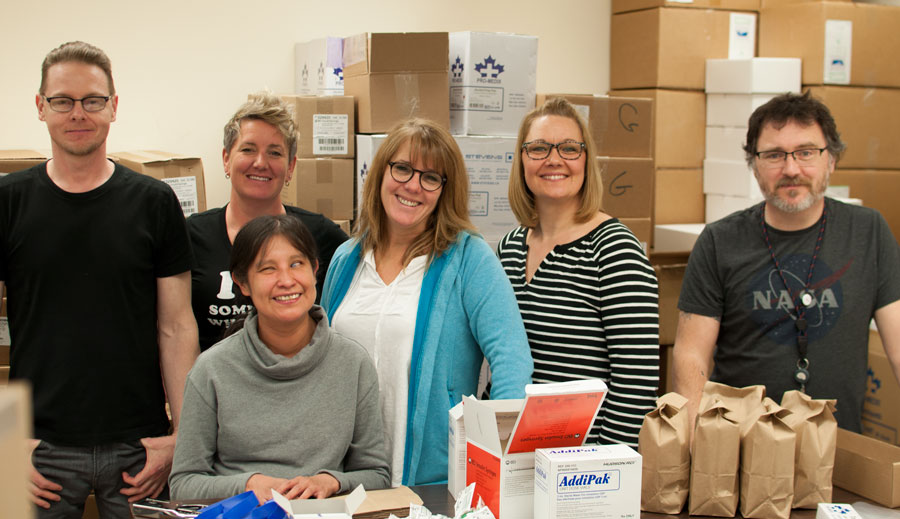 In mid-2017 a unique relationship was formed between the Thunder Bay District Health Unit and Community Living Thunder Bay (CLTB) Employment Services. The role of CLTB Employment Services is to assist people with disabilities in developing skills, obtaining paid employment, enabling a higher quality of life and encouraging independence and inclusion. Employment is the quickest and most direct route to inclusion, an important value at the heart of TBDHU's work in our communities.
In January of 2018, Sam became an official employee of TBDHU, working Tuesday afternoons in the Superior Points program assembling needle kits.. This opportunity came at the right time for Sam as her previous place of employment had recently closed down and she was in need of an income source.
"Sam is such a delight to work with and she consistently does a great job every week," notes Lori Kuzminski, Sam's co-worker with Superior Points. "She has learned a lot in her role here but I would say that those of us who get the pleasure to work with her have learned even more! We always look forward to our Tuesday afternoons with Sam!"
Hiring people that experience disabilities empowers the person, enriches the organization and builds a stronger community. TBDHU has benefited greatly from this opportunity and look forward to ongoing growth and learning moving forward.