Each year, the Thunder Bay District Health Unit produces an annual performance and financial report as a requirement of the Ministry of Health and Long-Term Care's Public Health Organizational Standards. The report outlines the Health Unit's vision and mission, provides an overview of our finances, operations, program performance, and presents highlights of the activities we have led or taken part in as part of our mandate to achieve positive health outcomes.
Click on the image below to read our latest Annual Report: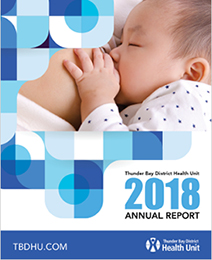 For older reports please request by calling (807) 625-5900.
Financial Statements
The Thunder Bay District Health Unit annually produces financial statements in accordance with Public Sector Accounting Standards and with S. 59(2) of the Health Protection and Promotion Act.
Current and past financial statements include:
What Your Levy Buy$
Our What your levy buy$ publication provides a financial summary of the TBDHU consolidated budget, as well as an overview of the services provided.