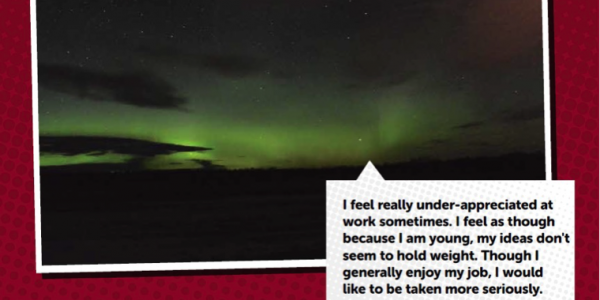 It's an ugly truth. It's rarely blatant. It can be hard to prove – just as all forms of discrimination are.
Every day people go to jobs where they are expected to put their best foot forward, yet they feel they're treated unfairly because of their age.
As I think back on all of the jobs I've had in the past, I can't say I've personally experienced this. I guess I should consider myself lucky. "Ageism" is alive and well in workplaces across Canada. Most often, we hear about it in the form of negative attitudes towards older workers. However, this issue goes both ways. Case in point is this entry we received for our Superior Mental Wellness @ Work Get Real Photovoice Contest.
This past June, we asked employees in Thunder Bay and across the district to submit photos and captions about their mental health experience at work. In response to the question, "how do you really feel at work?" we received this entry:
"I feel really under-appreciated at work sometimes. I feel as though because I am young, my ideas don't seem to hold weight. Thought I generally enjoy my job, I would like to be taken more seriously."
These words illustrate how people can feel underestimated and undervalued because of their age.
Regardless of ethnic origin, skin colour, religion, ability, … and age – the desire to feel valued and respected is universal. Every worker wants their efforts and ideas to be appreciated. If it's just not there, skilled talent could walk out the door. The reality is, among competitive industries where workers are hard to find, organizations simply can't afford excessive turnover.
Workplace leaders play a key role in establishing inclusive work environments that both attract and retain skilled workers of all ages. That said, it can be challenging to manage the growing age gap in today's workforce. This week's Statistics Canada report shows that one-fifth of seniors aged 65 and over remained in the workforce in 2015, nearly twice the rate as in 1995. Each generation in the workforce brings its own values, perspectives and work styles. While they're each unique, they are all equally deserving of respect and at the end of the day, it's the organizational culture that will set this tone.
Focusing on the unique strengths of employees and your common goals will certainly go far in enabling staff to work together effectively and learn from each other. Managers also need the skills to deal with any people problems early and effectively to keep friction to a minimum. This isn't just on the manager's shoulders to deal with this issue though, it's important for every team member to build positive relationships with their coworkers, regardless of age.
Organizational Culture and Civility and Respect are just two of the thirteen workplace factors that are outlined in Canada's National Standard for Psychological Health and Safety in the Workplace. This is the go-to guideline for how organizations can promote and protect employee mental health. TBDHU encourages all worksites to move forward with implementing this Standard and we even offer training and resources to support you in this. Visit superiormentalwellnessatwork.com to learn more. Oh and while you're there, check out the Get Real Photovoice campaign and read real stories from real people in our region who have shared their mental health experiences—both the good and the bad—in the workplace.