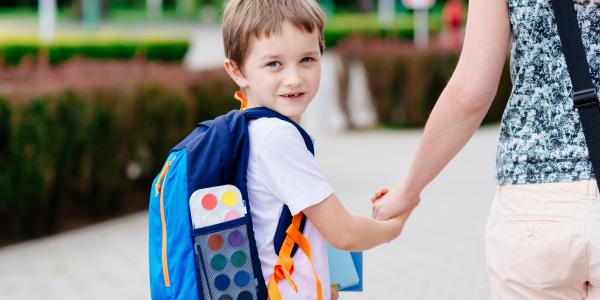 If you have a young one starting school in 2018 you may be thinking, "How did my baby grow up so fast? Feels like yesterday I was just changing diapers, waking up 5 times a night, making baby food, watching those first steps - followed by those first words, and now they're almost school age!" And you may also be starting to think about JK registration which begins in February.
As a mother myself, I know that preparation for the first day of school can be an emotional and stressful time. All the things to do become overwhelming: buy indoor runners, a packsack, make Fair Start and eye doctor appointments, find inspiration on Pinterest for lunch ideas, and on and on it goes. Sigh. The fact that this milestone is quickly approaching can be all too consuming. And with life's hectic pace you may not notice the TBDHU's logo on one of those sheets of paper in the daunting stack of documents handed to you as part of JK registration night at your child's new school.
That sheet of paper is the "oft-forgot" immunization form. You may be wondering what exactly this form is all about. The School Entry Immunization Form explains to parents how Ontario law requires that a copy of your child's immunization record or a valid exemption is submitted to the Health Unit before your child starts attending school.
The average School Entry Immunization Form travels from the TBDHU to your child's school, then to your kitchen counter, then to the office area (where it endures red, purple and blue crayon on its backside), then gets picked up and read along with all the other forms before going back to the kitchen counter (to be scribbled on once more) before finally finding its way home to the TBDHU!
Some forms are not so lucky. They are forever lost in a sea of papers and bills in the back drawer of your office desk, or are returned (in error) to the school where they may forever rest. :(
You probably have a few questions right now about that form:
"What is this law around my child being immunized?"
The Immunization of School Pupils Act requires all students attending school in Ontario be up-to-date with certain immunizations which are covered under Ontario's Routine Immunization Schedule or have a valid exemption on file.
"My child is up to date on their immunizations, why doesn't the Health Unit know this?"
Parents are often surprised to find out that health care providers such as your child's doctor or nurse practitioner do not routinely forward immunization records to the Health Unit. It is the responsibility of the parent or guardian to provide the Health Unit with their child's immunization record.
"How do I submit my child's record to the Health Unit?"
This is where it gets exciting! It has never been easier to submit your child's record! Do you have a phone that you can take pictures with? Then you can submit your child's record to us! Next time you grab your phone to capture a cute moment, just pull out that immunization record and take one extra photo! The school entry immunization form has clear direction on how to use the province's new system, Immunization Connect (ICON), to submit your child's record to the Health Unit. What's even more exciting is that once the Health Unit has a copy of your child's record you can retrieve your child's record using this site!
"Where did my child's record go? I put it right here!"
Yes, we've all been there. Don't worry. You can call the health care provider where your child was immunized to obtain their record.
"Oh no! My child is in JK and I missed this form!"
No worries. It is never too late to submit your child's record to the Health Unit.
"Once I've submitted my child's record through ICON, what do I do with the form?"
Please submit this form to the Health Unit and NOT your child's school.
As a parent, the fate of your child's school entry immunization form is in your hands! Keep your eye out for it in all those papers you receive from your child's school and if you have any questions, please contact us. Stay strong, and wish that little one a great first day of school!
I've always loved the first day of school better than the last day of school. Firsts are best because they are beginnings. - Jenny Han