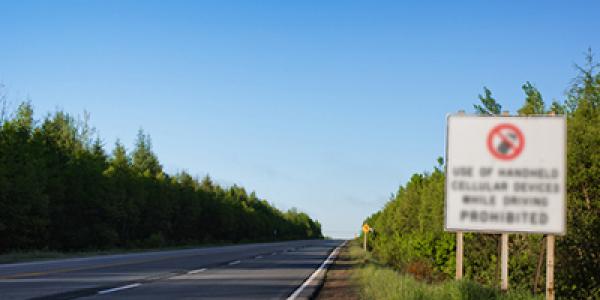 One day, when I was in Grade 2, my Mom and I were out driving around town and my mom pointed out a road sign that had some words on it. I said, "Umm, Mom? I don't see any words on that sign? What are you talking about?"
Apparently, this sign was huge and my mom was shocked I couldn't see the letters. So she tested me on a few more road signs, quickly discovering that I couldn't read them and had poor long-distance vision.
Feeling alarmed that she didn't notice my obvious vision problem until then, Mom immediately booked an appointment with an optometrist. Well, it turned out my vision was pretty bad, and a couple weeks later, I walked out of the optometrist's office with a new pair of glasses and…
WOW. The trees had leaves on them? Who knew? Those round things on the walls at school were clocks?! Shocking! A whole world in front of me suddenly came into focus that I had no idea was there previously!
My vision had probably been poor for a long time before my mom figured it out. I'm thankful she was able to recognize I might need glasses after that drive and that my vision problem was treatable.
Unfortunately, this is often how it happens. Children don't notice their vision is poor because their developing brains learn to adapt to the vision problems. If not caught in time, the vision loss can be permanent and may be untreatable. What's more, vision problems are actually quite common – 1 in 4 school-aged children will have them.
It's also hard for others to spot vision problems in children. Sometimes the signs of vision problems (like trouble reading the board, doing homework, or playing sports) are mistaken as difficulties with attention or behaviour. Or sometimes children don't even show symptoms at all. The good news is, that if caught early enough, vision problems are often treatable.
Knowing all this, wouldn't it be great if we had some sort of way to find and treat vision problems in children early on?
Well, there's good news on that front! Here at the Health Unit, we're excited to help identify vision problems early in children, with our new Children's Visual Health Program. This February, we started school vision screening for SK students. We'll continue to screen in select schools in Thunder Bay and District for the remainder of this school year and then next school year we plan to screen all SK students in our area! We're looking forward to seeing the local impacts this program will have on children's health.
Vision screening involves three simple tests that look for signs of possible vision problems in children. Results are shared with parents who are then encouraged to follow-up with an optometrist for a full eye exam. It's important to have your child's eyes checked by an optometrist early in life and regularly as they continue to develop. Bonus – all children 0 to 19 years old with an Ontario health card are eligible for one free eye exam every 12 months! May is Healthy Vision month.
To learn more and test your knowledge about healthy eyes, keep an eye out for a fun trivia contest on Facebook and Instagram starting next week! See our Children's Visual Health Program page for more info on how children, and people of all ages, can keep their eyes healthy.