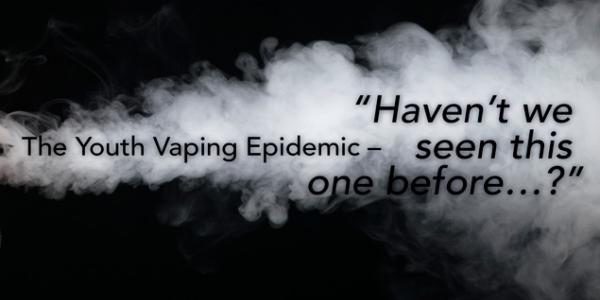 This past weekend I was scrolling through my Netflix list looking for something to keep my attention for a brief period. There's a lot going on in my house and I never get a full 2 hours for something, so movies tend to be consumed in about half hour installments, usually while I'm working at something else. I made a selection and was about 10 minutes through the opening sequence when everything just started to feel really familiar. And of course, I realized that I'd already watched this movie, maybe a year ago, but because of my method of media consumption while multi-tasking, I completely forgot that I'd already seen it.
It happens to all of us at one point or another; it's like we've been through all of this before. I have this exact feeling about vaping. This is definitely not the first time we've seen this one. The similarities between what is going on right now with vaping is so similar to what we've worked so hard to eradicate with smoking, that it's downright scary. Ontario is the only province that allows unfettered vaping promotion in retail environments where minors have access, a bonus for the industry and a lure for youth. Have you been in a convenience store or gas station lately? There are vape promotions at the pump, at point of sale, by the candy… even hanging from the ceiling. It's seriously everywhere: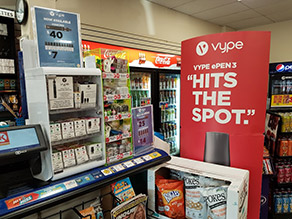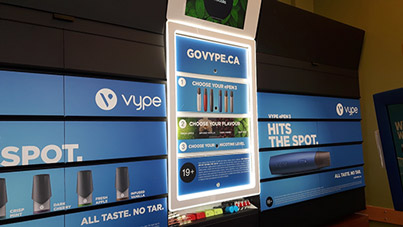 If that wasn't bad enough, the Canadian market has recently been introduced to the coolest, techiest, and most parent-confounding generation of vapes yet - - the Pod Vapes (aka pod mods, vape pods, mini vapes or pod systems) (see below). Pod vapes are named for their pre-filled "pod" of e-juice rather than refillable tanks or bottles. They employ the use of nicotine salts rather than free-based nicotine, which allows for a higher nicotine content without being too harsh or compromising the flavour. That's right, even more nicotine, one of most the most addictive substances known to humankind.
One pod is generally the equivalent to about one pack of cigarettes and can be easily consumed in a day.
With all the gains we've made in youth smoking rates over the last number of decades, within a few short years we may have a whole new generation of kids addicted to nicotine, perhaps even more so than their parents and grandparents were. And to most of these kids, there is really only one brand out there: JUUL.
JUUL is to e-cigarettes what Google is to internet search engines. It's so popular that not only is it absolutely dominating the market, but it's also become its own verb. The kids are JUULing. And they're doing it more than ever before… so much more that the U.S. Surgeon General calls teen vaping an epidemic. Not a term that just gets thrown around lightly. In Canada, currently unpublished data from the ITC Youth Tobacco and E-Cigarette Survey shows that there has been a dramatic and unprecedented increase in vaping among youth aged 16-19 between 2017 and 2018. In one year, the youth vaping rate has jumped an alarming 79% (past 30 day users). So when I tell you this is a cause for concern, I'm not being dramatic for effect. This is a big, bad deal. Evidence shows that youth who vape are 4x more likely to start smoking. With the skyrocketing numbers of youth who are vaping, the smoke-free future we have been working so hard for is looking more like a fantasy than reality.
So what's to be done about it? We all have to do our part. It is a must for public health folks like us to do everything we can to educate about the risks of youth vaping. Parents and teachers, learn to recognize the devices and remember to keep an eye on things; they are rapidly evolving and new ones come out all the time. Today's JUUL looks very much like a flash drive, and even plugs into a computer's USB drive to charge, so they are very easily concealed. And changes to legislation regulating what is permitted for promotion is vitally important. The public has an opportunity to comment on this and any other suggestions to lessen the appeal of vaping to youth, such as reducing the number of flavour options or the permissible amount of nicotine levels. You can view the consultation document posted by Health Canada and send your comments to hc.pregs.sc@canada.ca. It would appear that the horse is out of the barn. Let's see if we can't get him back in.
E-cigarettes are safer than cigarettes, but that doesn't mean they are safe. Non-smokers absolutely should not vape.
E-cigarettes may help some people quit smoking, but evidence is limited. 59% of e-cigarette users also smoke cigarettes.
E-cigarettes pose significant risks to youth. 99% of e-cigarettes sold at retail contain nicotine. Nicotine is highly addictive and damaging to the developing brain. There is also substantial evidence that vaping increases youth risk of subsequent smoking.
Thoughts? We'd like to hear 'em! Leave a comment below and please remember to stay civil and respectful of differing viewpoints. Thanks!
______________________________________________________________________________________