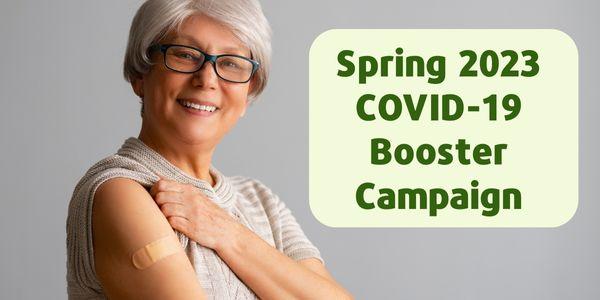 April 6, 2023 - Today, the Province of Ontario announced the launch of a "spring" COVID-19 booster campaign to ensure that those at highest risk continue to be protected from COVID-19. This begins today in TBDHU too.
The following groups are recommended to receive a COVID-19 booster this spring:
Individuals aged 65 years and older;
Residents of long-term care homes, retirement homes, Elder Care Lodges, and other congregate living settings for seniors;
Individuals aged 18 years and older living in a congregate care setting for people with complex medical care needs;
Pregnant individuals;
Individuals aged 18 years and older who are moderately to severely immunocompromised; and
Individuals aged 55 years and older who identify as First Nations, Inuit, or Métis and their non-Indigenous household members aged 55 years and older.
In addition, individuals aged 5 years or older who have not received a booster dose since September 1, 2022 also remain eligible to get a booster dose.
Individuals can receive a COVID-19 vaccine booster this spring if it has been at least 6 months (168 days) since their last dose or confirmed COVID-19 infection.
"Those at highest risk from COVID-19 and anyone 5 years or older who didn't get a fall booster should strengthen their protection with a spring booster dose," said Dr. Janet DeMille, Medical Officer of Health for the Thunder Bay District Health Unit (TBDHU). "COVID-19 is not going away. The vaccine is the safest way to enhance protection against serious disease, hospitalization and death, and it can lower the risk of developing long COVID."
TBDHU, select pharmacies and participating primary care providers, including Indigenous health providers, will be offering COVID-19 vaccine boosters in the Thunder Bay area and communities in the District.
In the Thunder Bay area, TBDHU will be offering the COVID-19 vaccine booster at TBDHU vaccine clinics. The clinic at the CLE grounds will be open April 12, 17, 19, 24 and 26. Walk-ins are welcome; however, individuals are encouraged to book an appointment to minimize waiting if the clinic is busy. Appointments can be booked online through the Provincial Booking System or by calling 1-833-943-3900. More information about TBDHU clinics at the CLE and elsewhere is available at TBDHU.COM/vaxclinics or by calling 807-625-5900 (press 4).
For District communities, TBDHU COVID-19 booster clinics are scheduled throughout the month of April; full details on locations, times, and dates can be found on TBDHU.COM/districtvaccines or by calling the local public health branch office.
-30-
For more information - Health Unit Media: news@tbdhu.com.