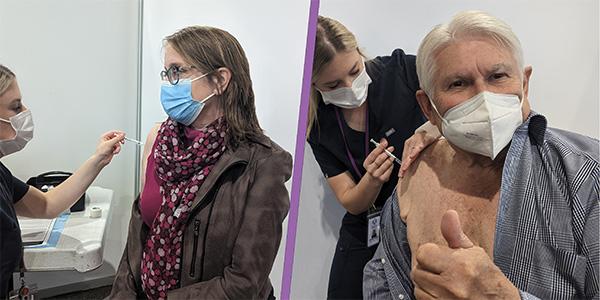 November 1, 2022 - The Thunder Bay District Health Unit (TBDHU) is advising the public there has been a significant increase in the number of flu (influenza) cases reported in the Thunder Bay District over the past two weeks. This represents an early start to the flu season in this area.
TBDHU recommends anyone who is eligible should get the annual flu shot. Starting today (November 1), all individuals who are 6 months or older can receive the flu vaccine. Flu shots are widely available from many pharmacies and primary care providers. Individuals 5 years or older who are coming to TBDHU clinics for their COVID-19 vaccine will also be offered the flu vaccine at the same time.
"Flu is here, and it's spreading quickly," noted Dr. Janet DeMille, Medical Officer of Health. "Flu is a serious disease that results in hospitalizations and deaths every year in Ontario. The vaccine will help protect individuals and families against the flu. With COVID-19 and other viruses still circulating and the health care system under tremendous strain, it is particularly important that people protect themselves and others."
With the surge in flu cases, TBDHU is strongly recommending individuals who are at higher risk, as well as those who live with or care for them, to get their flu shot as soon as possible. To support this, starting today, individuals at higher risk will be able to walk in for a flu shot at the TBDHU COVID-19 vaccine clinic on the CLE grounds in Thunder Bay even if they don't need a COVID-19 vaccine. This clinic will also continue to offer flu vaccines to children under 5 and their accompanying family members.
Individuals at higher risk of serious complications from the flu include:
People 65 years old or older
People with chronic illnesses (such as cancer, diabetes, heart disease or lung disease)
Children 6 months to 4 years old
People who are pregnant
Indigenous people
In addition to getting the flu shot, there are other important measures that reduce the risk of spreading the flu, such as staying home when sick, washing hands frequently, and wearing a mask (especially indoors when around other people). With COVID-19 still circulating and new sub-variants expected, TBDHU continues to recommend that eligible individuals receive their COVID-19 vaccine fall booster. Individuals 5 years old or older can receive the COVID-19 and flu vaccines at the same time.
Residents of district communities should contact their community's health care provider or a pharmacy to access the flu vaccine. TBDHU continues to offer COVID-19 vaccine clinics in district communities and is planning additional clinics in the Thunder Bay area to offer flu shots to those at highest risk and COVID-19 boosters to everyone who is eligible. Please check TBDHU's Getting the Flu Shot page for more details as they become available. For more information about influenza or vaccination opportunities, visit the TBDHU website or contact TBDHU at (807) 625-5900 or toll-free at 1-888-294-6630.
-30-
For more information: Health Unit Media news@tbdhu.com
Health Topics
COVID-19
Diseases & Infections