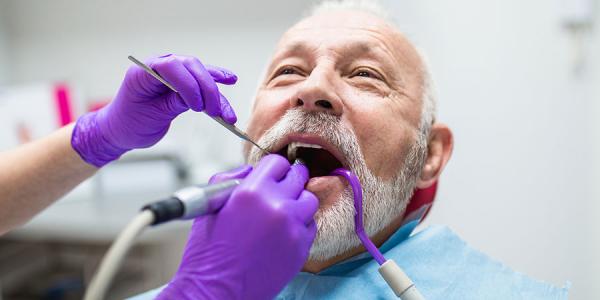 February 19, 2020 - The Thunder Bay District Health Unit is now offering free routine dental care services to eligible low-income seniors. These services are available through the Ontario Seniors Dental Care Program (OSDCP) in collaboration with dental providers in Thunder Bay and District.
"Many of the individuals receiving service through the OSDCP have not had the ability to regularly see a dental provider in years due to access barriers such as cost"," said Carolyn Tait, Manager of the Oral Health Program at the TBDHU. "Some are experiencing discomfort, broken dentures, and even pain and infection. This has a significant impact on quality of life. Good oral health is vital to overall health and chronic disease prevention."
To qualify for the OSDCP, individuals must meet the following criteria:
Be an Ontario resident aged 65 and over
Have a net income of $19,300 or less for a single person, or
Have a combined net income of $32,300 or less for a couple (only the applicant must be 65 years or older)
Have no other dental benefits (e.g. private insurance or other government program)
A list of frequently asked questions are available on the Health Unit's website at TBDHU.COM/seniorsdental. Seniors who meet the criteria can apply for a dental card by visiting Ontario.ca/SeniorsDental or by contacting the Health Unit's Oral Health Program in person or by phone at 625-5900 or Toll Free at 1-888-294-6630. Health unit staff are available to answer questions as well as provide enrollment assistance. This program is open to individuals living in Thunder Bay as well as the surrounding district communities.
As the health unit continues to develop the Seniors Dental Care Program, efforts will be made to investigate adding additional services, including denturists, specialists, and expansion to all district communities.
-30-
For more information - Health Unit Media: news@tbdhu.com.