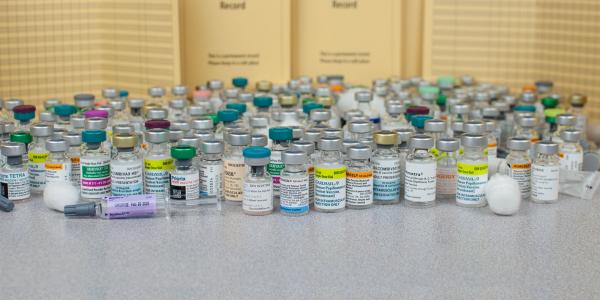 April 26, 2019 - "Adults need vaccines, too!" is the focus of the Thunder Bay District Health Unit's 2019 National Immunization Awareness Week (NIAW) campaign. This annual event, held the last week of April, highlights and recognizes the importance of immunization. Canada's NIAW coincides with Vaccination Week in the Americas and World Immunization Week.
"The need for vaccines does not go away with age. In fact, there are specific ages or stages in your adult life when vaccinations are recommended," says Kandace Belanger, acting manager of vaccine preventable diseases. "The best first step is to talk to your health care provider."
Specifically, the TBDHU recommends adults talk to their health care provider if:
They are pregnant or planning to be soon
They care for infants, children or seniors at home or at work
They have a chronic illness or medical condition including those that affect their immune system
They plan to travel soon
They haven't had their immunization record checked recently
There is a standard list of free vaccines that are covered for every adult in Ontario under the publicly funded vaccine schedule. Certain medical conditions and risk factors make some people eligible for additional vaccines. There are also vaccines that are not covered under the publicly funded schedule but might be available to them for a cost or through private drug plans.
Anyone without a health care provider can call the TBDHU and speak with a public health nurse about what vaccines they might need. Nurses are available Monday through Friday from 8:30am to 4:30pm by calling 625-5900 or 1-888-294-6630.
-30-
For more information: Health Unit Media: news@tbdhu.com.