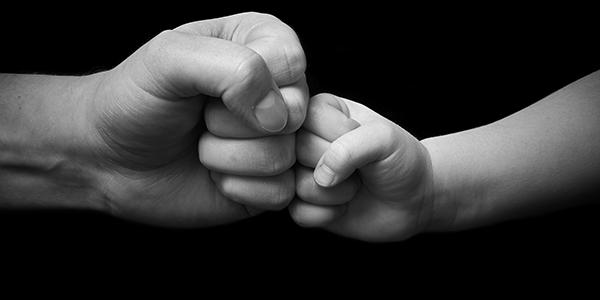 Father's Day is coming up and it got me thinking about how around 80% of men will undergo a major life transition and become a biological father. Yet there are limited interactions with service providers to support men in this transition and there is a lack of information available to men regarding their health and wellness. If you ask Google about men's health, the first options that are offered are tips for barbequing steak, weightlifting and sex. Now, everyone could use some information on those topics at some point but based on the unflattering statistics reported by the Canadian Men's Health Foundation, its' clear that we need to do a better job supporting men and providing health and wellness information.
When we asked local men what their motivation to be healthy was, they stated family first and second longevity. So this Father's Day, if you haven't already, consider 3 possible changes you can make to improve your health and wellness, so that you can have good physical and mental health and be around to see your family and friends grow.
1. Involved Fathers
We know that most dads are involved fathers who have intentional interest in the care and well-being of their children which they demonstrate by spending quality time with their children and families. Which is great news as the research tells us that involved fathers enjoy longer lifespans, are more productive at work, have better health and men who are involved with their children actually report being happier. Also, those dads that have a good connection with their intimate partners (if they have one), get sick less, handle stress better and live longer.
2. Decrease your use of substances
If you smoke make a quit attempt. Quitting smoking is really hard and each time you attempt to quit you get closer to your goal of quitting. Can you think of another time when you worked hard towards a goal and you reached it? Summer is coming and who doesn't love a frosty pint of beer or beverage on the deck, but consider looking at Canada's Low Risk Drinking Guidelines to see how your drinking compares. If you are interested in protecting "your swimmers" and want optimal sperm health, consider how often you use cannabis as recent studies showed that men who smoked cannabis had a reduction in sperm concentration when using more than once a week.
3. Weight Obesity
affects men and women about equally. But you may be surprised to learn that men bear a specific burden, as obesity takes a special toll on male hormones, sexuality, and prostate health. Being active can help to maintain a health body weight for example any activity or exercise that works the major muscle groups, such as walking, gardening and even washing the car, is usually demanding enough to offer health benefits.
So if you haven't already, this Father's Day please reflect on small changes that you can make that will lead to big impacts for your health and longevity so that you can be around for many more Father's Days to come.