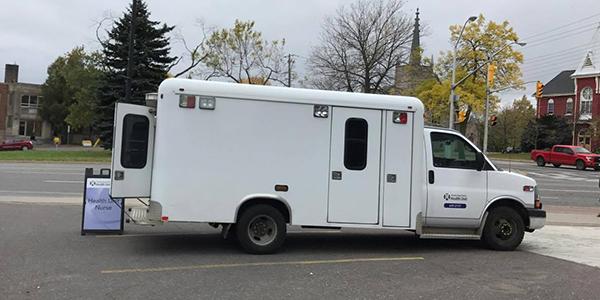 I'm a public health nurse with the Health Unit's sexual health program. One of my roles is street nursing. Street nurses travel around in a refurbished ambulance visiting different areas of the city to offer sexual health and harm reduction services. We do things like STI testing, (immunizations?), and hand out harm reduction supplies like condoms, pipes, and needles to anyone who comes to see us. I absolutely love this part of my job. Every shift as a street nurse is different and I find that meeting people on the street instead of in a clinical setting leads to a more relaxed relationship with my clients. It's an opportunity to learn new things and grow personally and professionally.
After a year of street nursing, here are some of the things I've learned:
Lots of people in our city are hurting: physically, emotionally and spiritually. I often see people at their most vulnerable. Yes, people approach us for help with physical ailments like wounds or infections, but they also see us about their emotional, social and spiritual pain, and oftentimes about the addiction that so frequently accompanies a history of trauma. It can be hard to see so many people hurting so much every day.
There is a lot of need in our city.There are people of all ages and backgrounds that are in need and they aren't looking for anything extravagant. Some just don't have enough to eat and go to places like the Dew Drop Inn, Grace Place or Shelter House to get a meal. Others often are in need of really basic items - toothbrushes, soap and feminine hygiene products are always in demand. When we have hygiene supplies to give away, these small items brighten someone's day.
People are generous. When I'm doing street nursing I constantly see people helping one another and I'm not talking about the volunteers and staff at places like Shelter House (though they're great too). I mean people on the street helping other people on the street.  I've seen people share food with others who have less, and people who have come to us for a toothbrush turn around and offer up their own pads to someone else. It strikes me that those with the least to give are often the most generous people. No matter how little we have, we all have something to give.
Everyone has a story. I am privileged to hear people's stories while street nursing. Unfortunately, most of the people we see have faced unimaginable trauma in their lives and I'm so often amazed at their strength and resilience. But clients also share the stories of their joys and love with us. It is truly an honour to hear them.
It's never easy seeing the hurt people carry day in, day out but there's also a profound sense of fulfillment I get in just being present with clients. By listening to their stories and trying to help in some small way, I am able to bring their perspectives forward in the work that I do while at the same time growing a deeper sense of compassion for them and our community.