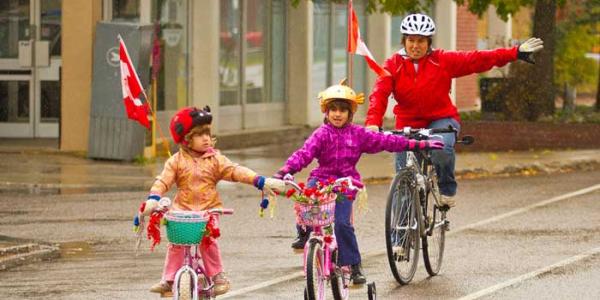 As a child, I don't remember ever taking the bus, not even in kindergarten. I grew up in a small town and lived exactly 1.1 km from my town's all-in-one elementary and high school. I recently asked my mom how I got to school as a kindergartener, her response: "I don't know - you probably walked with your brother." For context, my brother is only two years older than I am. At 5 and 7 years old we were independently walking to school.
How times have changed… and I swear I'm not THAT old! Did you know that most children in Thunder Bay don't regularly use active modes of transportation? According to a 2017 survey of parents in the city, only 32% of respondents indicated their child regularly gets to and from school actively.
Spring is the perfect time to add some physical activity to your family's routine! Why not welcome the warm weather and longer days by encouraging children to actively commute to school – it can be fun and very rewarding!
Biking, walking, rollerblading, and skateboarding are all ways to actively commute. Walking or wheeling to school is not only tons of fun but it positively contributes to children's health and well-being. FYI, here are some of the many benefits that come from choosing active modes of transport:
Physical Activity! Physical activity improves cardiovascular health and reduces the risk of developing chronic diseases.
Improved mental and emotional health! Decreased stress, anxiety and depression are correlated with active school travel.
Save the planet! Fewer vehicles in school zones mean reduced emissions and cleaner air for our children.
Improved academic performance! An active commute increases alertness and attention at school to help students to succeed and be ready to learn when they arrive at school.
Quality time with your child! Evidence indicates that spending time actively commuting to school increases opportunities for parents and caregivers to engage positively with their children.
Parents and caregivers have a big influence on children's travel to and from school. Consider walking or wheeling with your child, or planning a safe route they can explore with their friends!
Not within walkable distance to school? No problem! Active school travel is still possible. Consider dropping your child off at a safe location 2 or 3 blocks away from their school and let them walk the rest of the way.
Make it fun and be safe. Be like my mom, be the enabler to your child's active school travel!
For more information about active school travel, visit Active School Transportation.
______________________________________________________________________________________