Walking is the most popular physical activity in Canada. And why not? It's low-impact, affordable, and reduces stress. The Thunder Bay District Health Unit supports walkable communities in a number of ways including:
Encouraging people to walk more often as a way to stay more active.
Helping create walkable communities by providing input in City planning.
Providing resources for the general public about walking in Thunder Bay.
Walking Resources:
Download the Thunder Bay Walking Groups (PDF) for information on different walking groups within the city. This resource is updated every few months. If you know of other walking groups in the City and would like to be featured, email Joanna.Carastathis@tbdhu.com
Download the International Friendship Garden Scavenger hunt by clicking below! Can you solve the riddles?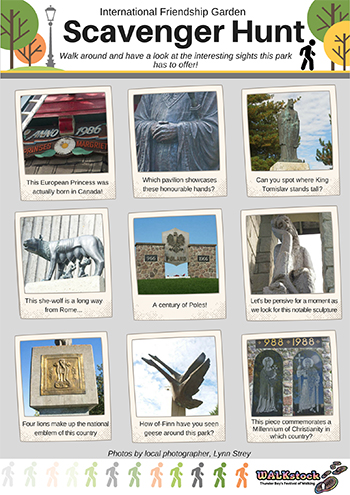 Try out these pre-planned walking routes – you can walk 2.7K, 3K or 5K loops starting from the International Friendship Garden: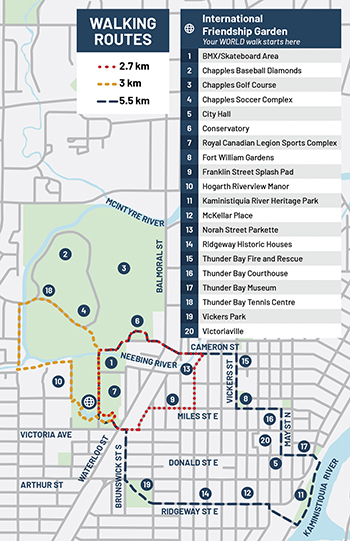 New Walking Group: Lettuce Walk!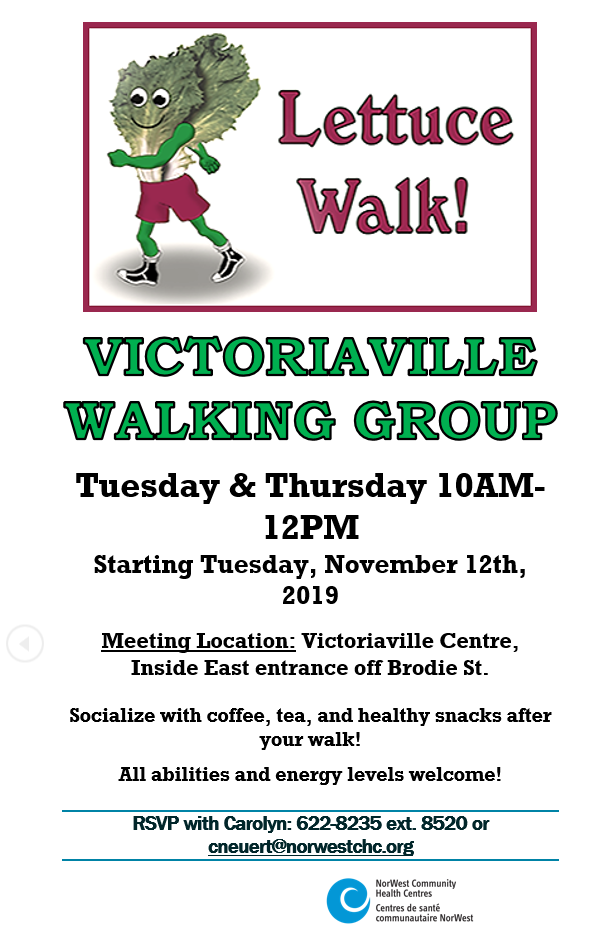 Events
Stay tuned for upcoming events!
Walkable Communities and You
Imagine a More Walkable Thunder Bay
Thunder Bay is joining other Ontario cities in rethinking street design. We are making it easier and safer for people to walk and bike to where they need to go. But it's more than just sidewalks and other safe pathways. It's about changing the way we think about communities. Walkable communities have:
"Complete streets" with crosswalks, slower traffic, bus stops, bike racks, good lighting, greenery and sidewalks.
Trees, shade, places to sit and public art.
Safe and easy connections between streets, trails, sidewalks and walkways.
Shops and services built close to where people live.
Walkable cities are the best places to live, work, play and do business! They make our communities safer, allow neighbours to get to know each other better, and attract new businesses and tourists. And of course it means people are more active, and in turn happier and healthier.
Walking in Thunder Bay
(Please note that although we aim to keep this information up to date, programs and schedules do change.)
Download the Some places to walk outside in Thunder Bay:
Northern Hearts

 encourages people to be active, be social and hear the newest health information.

Walking Tours of Thunder Bay are self-guided tours designed so walkers can learn about Thunder Bay's rich heritage and architecture, while at the same time enjoying a scenic walk through the city.
Walking trails and paths are located in various Thunder Bay parks including along the McIntyre floodway, the Neebing River, at Marina Park, Centennial Park, Cascades Conservation Area, Boulevard Lake, Mission Island Marsh
Download the Thunder Bay Walking Groups (PDF) for information on different walking groups within the city.
Anywhere a sidewalk takes you!
Some places to walk indoors in Thunder Bay:
Walking in the Thunder Bay District
In Marathon, join the Seniors Walking Group at the "Old Rec Hall" For information, email: btocheri@town.marathon.on.ca
In Geraldton, people of all ages are invited to join the "Walk and Talk" group at Geraldton Composite High school. For more information, call Rob Kurish, Manager of Leisure Services at (807) 854-1100.
In Nipigon, join the walking group that strolls around the community centre indoor rink. For information, call Celeste Mannila at (807) 887-3586.
For Further Information
Call the Physical Activity Program: (807) 625-5900
or toll-free 1-888-294-6630