Portable Sunscreen Dispensers
We are happy to announce that our Portable Sunscreen Dispensers have arrived from sunny California! The dispensers are motion-sensored and squirt out a small amount of SPF 30 sunscreen to protect yourself from the harmful UVA and UVB rays.
Remember: incidental exposure matters. Efforts should be made to make it a habit to put on sunscreen every time we go outdoors as the UV index is considered
"high" to "very high" in the summer time and over time, these exposures adds up. Until September 30, TBDHU staff will be bringing the dispensers to events like the Thunder Bay Bordercats games in August, Live on the Waterfront and Lighthouse Festival in Terrace Bay to name a few. Our dedicated street nurses will also be taking a dispenser during their street nursing visits as well.
Feel free to take a selfie with our new dispensers and submit your name for a chance to win a $50 gift card to Sunglass Hut and help us spread the word! Good luck and stay covered this summer ;)
UV Index
Below is the current temperature and UV index for Thunder Bay: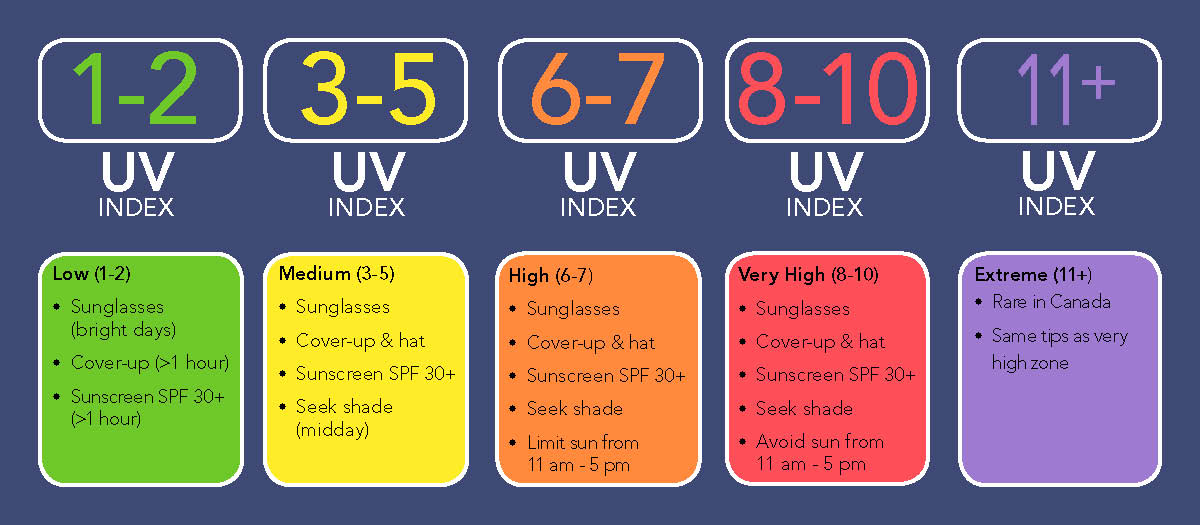 UV Index
UV Index
Description
Low (1-2)

Sunglasses (bright days)
Cover-up (> 1 hour)

Sunscreen SPF 30+ (> 1 hour)

Medium (3-5)

Sunglasses
Cover-up & hat
Sunscreen SPF 30+

High (6-7)

Sunglasses
Cover-up & hat
Sunscreen SPF 30+
Seek shade

Limit sun from 11am - 5pm

Very high (8-10)

Sunglasses
Cover-up & hat
Sunscreen SPF 30+
Seek shade
Avoid sun from 11am - 5pm

Extreme (11+)

Rare in Canada
Same tips as Very high zone
Skin cancer is the most common cancer in Canada. Burns and skin damage can happen fast and stay with you for life. The higher the ultraviolet (UV) index number, the stronger the sun's rays. Sun reflects off sand, snow and pavement and can double UV strength. Outdoor workers are more exposed to sun than indoor workers. Workers operating a vehicle or heavy equipment are also exposed to harmful UV Rays which can come through glass and should take the same precautions as outdoor workers.
Vitamin D and Sun Exposure
In 2016, the National Steering Committee for Consensus on Content for Sun Safety Messages (28 participant organizations) released the following information related to Vitamin D and Sun Exposure:
"Intentional Ultraviolet radiation exposure to meet vitamin D requirements is not recommended."
"Use sources of vitamin D from dietary sources including fortified foods and vitamin D supplements"
General Tips
Below are some general tips to protect you:
Drink plenty of water to stay hydrated
Seek shade under a tree or create your own
Take the shadow test:

Small shadow = more UV = more protection needed
Large shadow = less UV = less protection needed
Refer to the UV Index above for more tips.
Resources
Check out our UV Index campaign resources: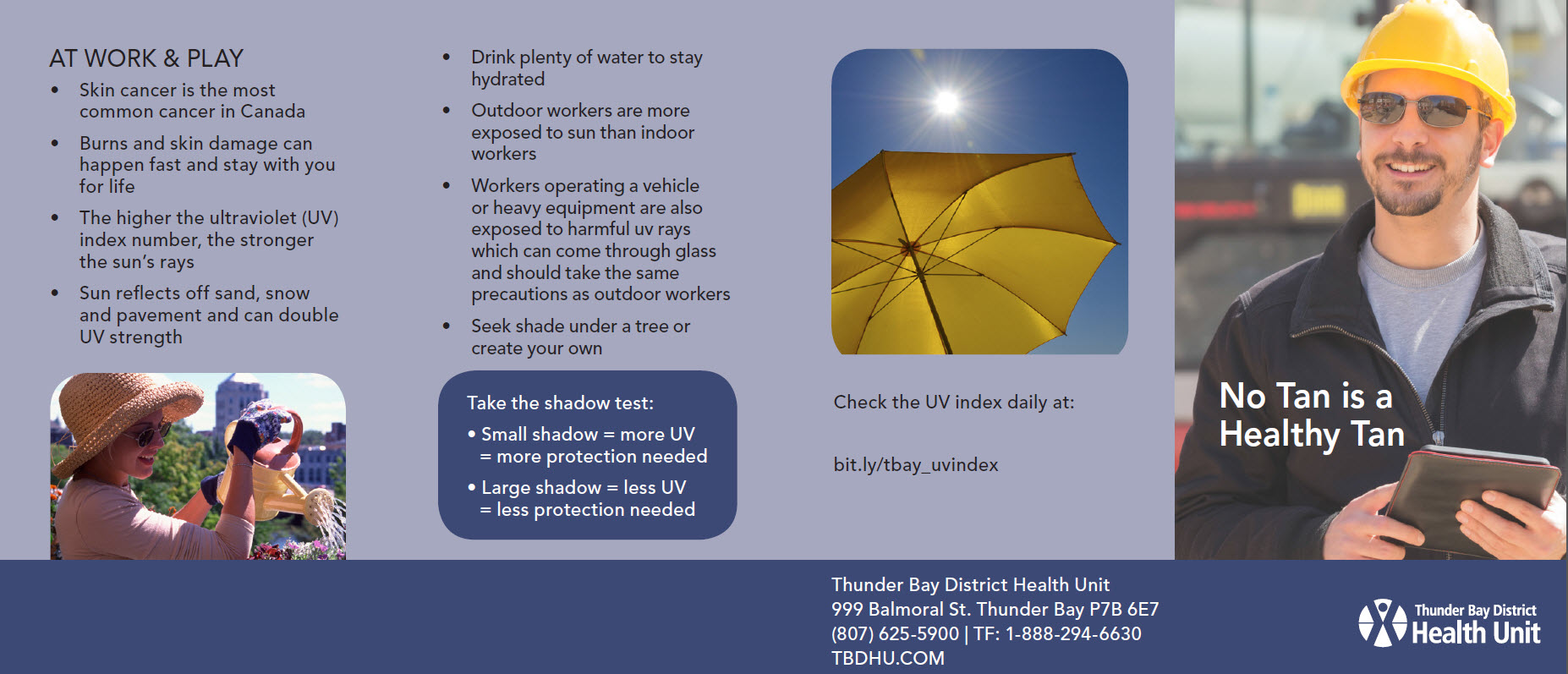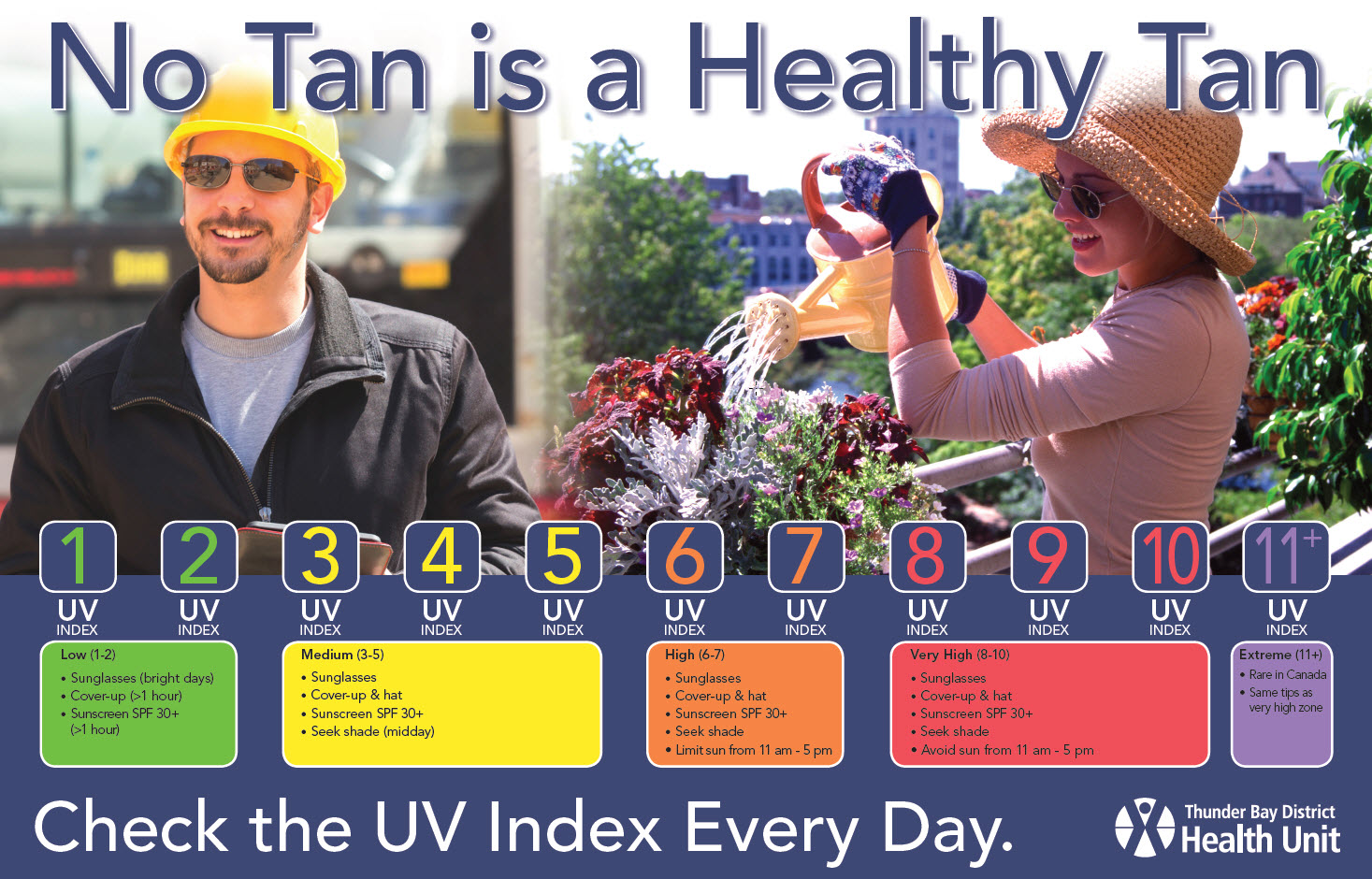 For Further Information
Call the Family Health program: (807) 625-5900
or Toll-free 1-888-294-6630