Thunder Bay's current temperature and UV Index:
Winter Sun Savvy Facts
Reducing ultraviolet radiation (UV) exposure decreases the risk of skin cancer and eye
damage.
Up to 80% of sun's UV rays reflect off snow and ice.
UV reflected off snow in winter is stronger than UV reflected off sand in summer.
The higher the altitude, the stronger the UV rays. 
UV rays can penetrate clouds. Don't be fooled.
Individuals in vehicles can also be exposed to harmful UV rays mainly through side windows. Sun protection is also needed.
Sunscreen wears off in wind and snow. Windburn may actually be sunburn.
Eye protection is required around highly reflective environments such as snow and ice
Vitamin D and Sun Exposure
In 2016, the National Steering Committee for Consensus on Content for Sun Safety Messages (28 participant organizations) released the following information related to Vitamin D and Sun Exposure:
"Intentional Ultraviolet radiation exposure to meet vitamin D requirements is not recommended."
"Use sources of vitamin D from dietary sources including fortified foods and vitamin D supplements"
Winter Sun Savvy Tips
You can still enjoy our beautiful winter in the Thunder Bay and District!
Enjoy the sun safely. Protect your skin and protect your eyes.
Apply broad spectrum SPF 30 or higher water resistant sunscreen.
Reapply sunscreen every 2 hours on any exposed skin.
Apply broad spectrum SPF 30 lip balm.
Apply sunscreen on ears, around eyes, neck and under the chin and nose.
Wear a hat that shades the head, face, ears and back of the neck with a wide brim.
On colder days wear a ski mask.
Wrap around sunglasses or goggles with UVA/UVB protection are best in winter.
Contact lenses even those with UV protection do not provide full coverage for the eye and skin around the eye.
In general, clothing provides better protection than sunscreen especially tightly woven or UV protective labelled clothing.
Being sun savvy should be as important as brushing your teeth every day.
Protect yourself all year long even in winter.
Resources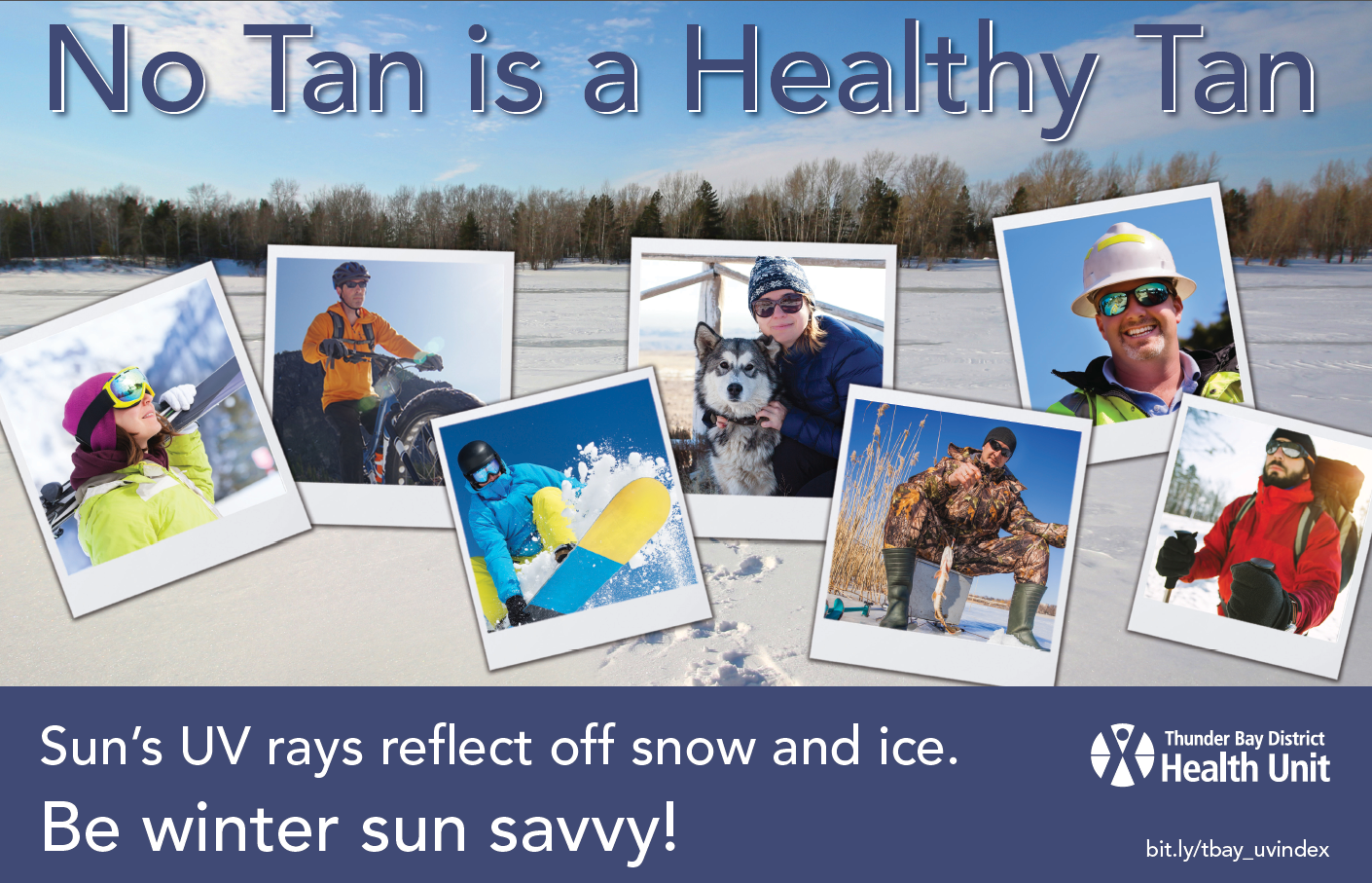 For Further Information
Call the Family Health program: (807) 625-5900
or Toll-free 1-888-294-6630