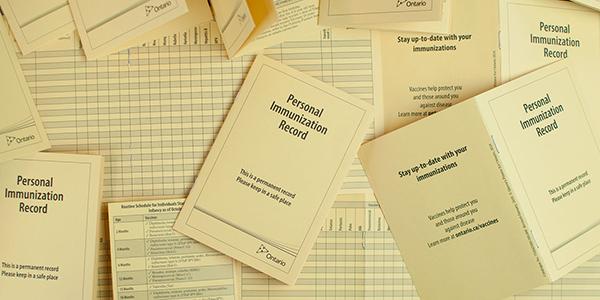 August 26, 2019 - With the start of another school year just a few weeks away, the Health Unit is reminding parents and guardians of the importance of submitting their child's immunization record to the Health Unit. The Health Unit must review the records of all children enrolled in both school and licensed child care to ensure they are up-to-date on the immunizations they need to stay protected as well as the immunizations they are required to have according to Ontario law.
"To make this assessment, we can access a provincial immunization database where all immunizations given by our nurses are automatically added to update a record," says Kandace Belanger, manager of the vaccine preventable diseases program. "However, we want families to know that immunizations given by other health care providers are not automatically sent to the Health Unit so we rely on families to send that information so records are always up-to-date."
If a child's record is found to have missing information when it is reviewed by the Health Unit, parents and guardians will be notified so they can make arrangements to get the missing information or book an appointment with their health care provider to receive the missing immunization(s). Families without a health care provider can make an appointment at the Health Unit's weekly immunization clinic by calling 625-5900.
Immunization information can be sent to the Health Unit via mail or fax, but the most convenient method is through a secure online portal called Immunization Connect Ontario, or ICON. More information is available at TBDHU.COM/immunization or by calling an immunization nurse at 625-5900, 1-888-294-6630 or icon@tbdhu.com. The Health Unit is open Monday to Friday, 8:30am to 4:30pm.
Once an ICON account is established, parents/guardians can update the records of each child in their family as soon as an immunization is received from another health care provider. Photos of the updated information can also be added to the database to ensure accuracy of information. As an added feature, individuals can also retrieve their immunization record when needed in the future for school, travel or work purposes, eliminating the need to contact the Health Unit.
"With respect to Ontario law, two acts govern the work of the Health Unit specific to immunizations. The Child Care and Early Years Act, 2014 lists the immunizations required by children attending licensed child care and the Immunization of School Pupils Act (ISPA) lists the immunizations required for children attending school," she adds. More information is available at TBDHU.COM/immunizations. All required immunizations are available at no cost under Ontario's Routine Immunization Schedule.
-30-