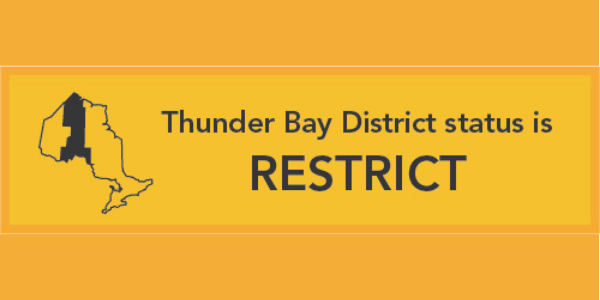 December 4, 2020 - Today, the Government of Ontario placed Thunder Bay District Health Unit (TBDHU) in the "Orange - Restrict" category of the provincial COVID-19 Response Framework: Keeping Ontario Safe and Open. Strengthened public health measures will further help control the spread of COVID-19 in the TBDHU area. This comes into effect on Monday, December 7, 2020, at 12:01 a.m. 
"It is concerning that our numbers are such that we are moving to a more restrictive level on the provincial COVID-19 response framework. We must take this seriously. Business and organizations will need to adopt even further measures to limit any spread of the virus in those settings," says Dr. Janet DeMille, Medical Officer of Health. "As individuals, we must all recommit to those basic measures that we need to do every day and with every interaction to prevent this virus from spreading in our area."
In addition to the general public health measures, there are some new and specific measures that come with the provincial "Orange-Restrict" category. These measures impact: 
Restaurants, Bars and Food or Drink Establishments
Sports and Recreational Fitness 
Meeting and Event Spaces
Retail 
Personal Care Services
Cinemas
Performing Arts Facilities
For a complete listing of the general and sector specific restrictions, please visit the Orange - Restrict section of the Province of Ontario website. All measures are also detailed in Ontario Regulation 364/20 under the Reopening Ontario (A Flexible Response to COVID-19) Act.
TBDHU will continue to support businesses and workplaces in implementing and adopting all the measures required to protect their workers and the public. Resources and supports specific to sectors have been updated and are available on the health unit website at TBDHU.com/workplaces/sectors.
As we move into the orange category, we remind everyone to follow all general public health recommendations.
Visit the TBDHU Website for more information or contact TBDHU at (807) 625-5900 or toll-free: 1-888-294-6630. 
-30-
For more information - Health Unit Media: news@tbdhu.com
Health Topics
COVID-19
Diseases & Infections