Car seats help save children's lives. However, to prevent serious injury, car seats must be the right size for your child, installed correctly and purchased in Canada. Car seats bought from other countries (including the United States) are not legal to use in Canada because they haven't met Canada's high standards for car seat safety.
The Thunder Bay District Health Unit (TBDHU) helps to promote car seat safety and educate the public about the do's and don'ts.
Car Seat Safety and You
Safe Installation
It is estimated that up to 80% of car seats are not installed correctly. Make sure yours is as safe as possible! Check out the Ministry of Transportation's website to find out how to correctly install your car seat and find general information about car seats and child passenger safety.
In Thunder Bay, St. John Ambulance provides car seat and booster seat educational clinics. Please call (807) 345-1712 for more information.
Thinking about buying a car seat in the United States?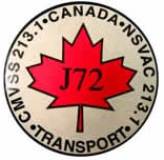 In short, don't! Car seats and booster seats sold in the US and other countries have not met Canadian regulations and are illegal to use in Canada. 
When purchasing a car seat for use in Canada, parents and caregivers should look for the National Safety Mark label on the seat, indicating that it complies with Canadian regulations and standards.
Resources
Videos for Installing infant rear-facing seats, infant front-facing seats, and booster seats
For Further Information
Call the Injury Prevention & Substance Use Program: (807) 625-5900
or toll-free: 1-888-294-6630