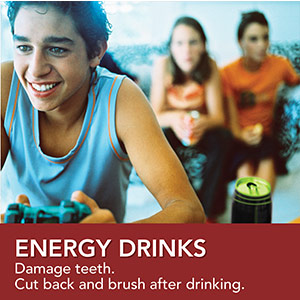 Energy drinks can hurt your mouth. They can cause:
Breakdown of your tooth's surface from the high acidity and sugar, leading to less protection for the tooth and tooth decay
Sensitive teeth 
Cavities from tooth decay
They can also cause:
Irritation, anxiety, aggression, and decreased attention span
Increased heart rate and blood pressure
Headaches
Daytime sleepiness
Here's how you can protect your mouth:
Make water your drink of choice. Water is the most nutritious beverage and is recommended by Canada's Food Guide.
Set limits. The more often you have energy drinks (and other sugary beverages), the more damage they will cause.
If you have one, rinse your mouth with water afterward to help protect your teeth's surfaces from breakdown.
Resources
For Further Information
Contact the Oral Health Program at (807) 625-5900 (Thunder Bay) or toll-free 1-888-294-6630 (District).