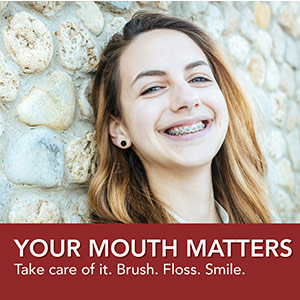 Did you know? Research shows that good oral health is also linked to good overall health. Gum disease and cavities can actually lead to severe illnesses like heart disease, diabetes, and infections. Taking care of your mouth by brushing and flossing regularly and correctly will go a long way in keeping not only your mouth, but your whole body healthy.
Brushing and flossing:
Decreases the risk of tooth decay (cavities) and gum disease
Removes food that is stuck in or on the teeth
Prevents infections
Improves mouth and overall health
Keeps your smile healthy
How can I keep my mouth healthy?
Brush twice a day for at least two minutes using a soft toothbrush and toothpaste with added fluoride (we don't have added fluoride in out drinking water - so it's important that it's in your toothpaste! Fluoride is an ingredient that helps keep your teeth healthy!)
Clean or floss between teeth and gums once a day to remove food and plaque
Check your gums/mouth regularly and report any changes or signs of gum disease to a dental provider
See your dental provider regularly or call the TBDHU for information on how to access dental care.
Resources
For Further Information
Contact the Oral Health Program at (807) 625-5900 (Thunder Bay) or toll-free 1-888-294-6630 (District).