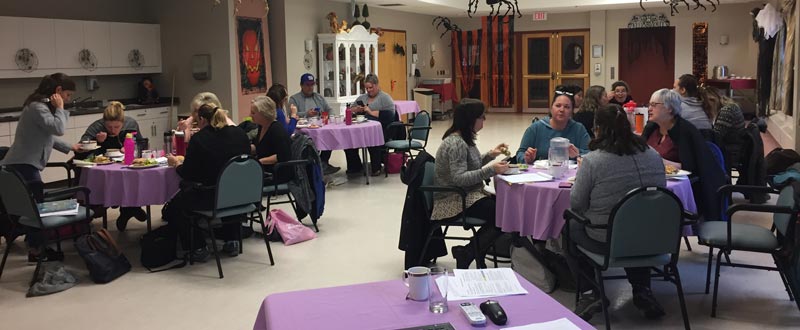 TBDHU is always on the lookout for capacity building opportunities within the organization and throughout the community. When relevant opportunities arise, TBDHU searches for ways of involvement; understanding the impact that providing tools and imparting knowledge to educators, employers, and health care providers can have toward preventing illness, disease and promoting good health within our region. Two such initiatives in 2018 are expected to have wide implications toward achieving these positive health outcomes.
The first initiative was a day long workshop hosted by the TBDHU, designed for non-health care providers who work with pregnant women or with young children and families. The workshop content was based on the BFI Strategy for Ontario's 20-Hour Course and was co-led by TBDHU public health nurses, including an International Board Certified Lactation Consultant (IBCLC), and the local La Leche League leader.
The 25 workshop participants represented several different organizations in both Thunder Bay and surrounding communities within the District. They were presented with information on breastfeeding basics, and how to support parents in their infant feeding decisions. The highlight of the workshop included an engaging discussion where knowledge was exchanged on available community resources.
An evaluation of the workshop highlighted the ongoing need to support breastfeeding families in the community as well as the need to share infant feeding resources and information about best practices among those who work with families in non-clinical roles. With this important knowledge now possessed by front line, non-health care providers, breastfeeding best practices have an additional avenue for being transferred to Thunder Bay and District families.
A second capacity building initiative in 2018 is also expected to help people improve or maintain their health and well-being. The Building Physical Literacy Capacity project is a partnership between the City of Thunder Bay, the Thunder Bay District Health Unit, and Sport for Life Society and is funded by a grant through the Government of Ontario. This project serves recreation providers, child care providers, and educators in Thunder Bay by equipping them with the necessary knowledge, skills, and training to embed physical literacy into their work. Ultimately, the project will benefit the health and well-being of Thunder Bay children who are encouraged and supported to have the motivation, confidence, physical competence, knowledge and understanding to value and take responsibility for engagement in physical activities for life.
The first of four master trainer sessions was delivered in the fall of 2018. Contracted by Sport for Life as part of this project, Dr. Dawne Clark trained 21 physical literacy champions, from a variety of sectors including education, private and public childcare facilities, and other community organizations that work with children in their early years. These master trainers will now go on to build physical literacy capacity in their workplaces and the children they work with. An excellent display of capacity building in action!