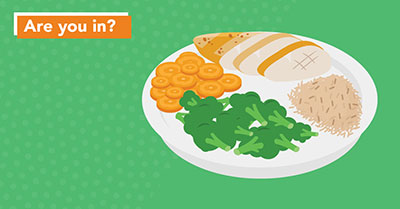 Are you In? 2022 Relaunch!
Are You In? is back this fall with a special launch Eat more Produce this September by trying:
Contests
Try Something NEW (Runs September 19-30)
It's time to take our Are You In? challenge to the kitchen! From September 19-30, we're asking you to try a NEW veggie from the grocery store or a local garden/farm! Show us what you try by sending a photo, video or recipe on our social media pages and tell us how it went! Enter for a chance to win our grand prize of an Air Fryer or one of two $25 gift cards to Superior Seasons store - located in the Goods and Co. Market!
Name that Plant (Runs September 6-16)
Show us your veggie smarts by correctly naming all of the plants on our social media channels for an exciting chance to WIN our grand prize, an Instant Pot or a $25 gift card to Superior Seasons store – located in the Goods and Co. Market.
It's harvest season - a time of year when the vegetables are plentiful! As part of our "Are you in?" healthy living campaign, we encourage you to Put more produce on your plate! Fruits and veggies are not only delicious and full of flavour, but they have vital nutrients that your body needs. Enjoy the fall harvest this year, whether it's helping a neighbour use up their extra zucchini, checking out a local farmers market or harvesting food from your own garden. Click on this Roasted Beet Salad with Citrus Dressing recipe to get you started.
This album has 8 pictures of garden vegetable plants (Hint: they could be fruits, vegetables, or herbs). Comment on our socials with the name of the plant on each picture. Name all 8 plants correctly and you'll be entered into the prize draws. Enter by September 16th at 3:30 pm. Good luck! The winner must reside in the Thunder Bay District.
Try out New Recipes!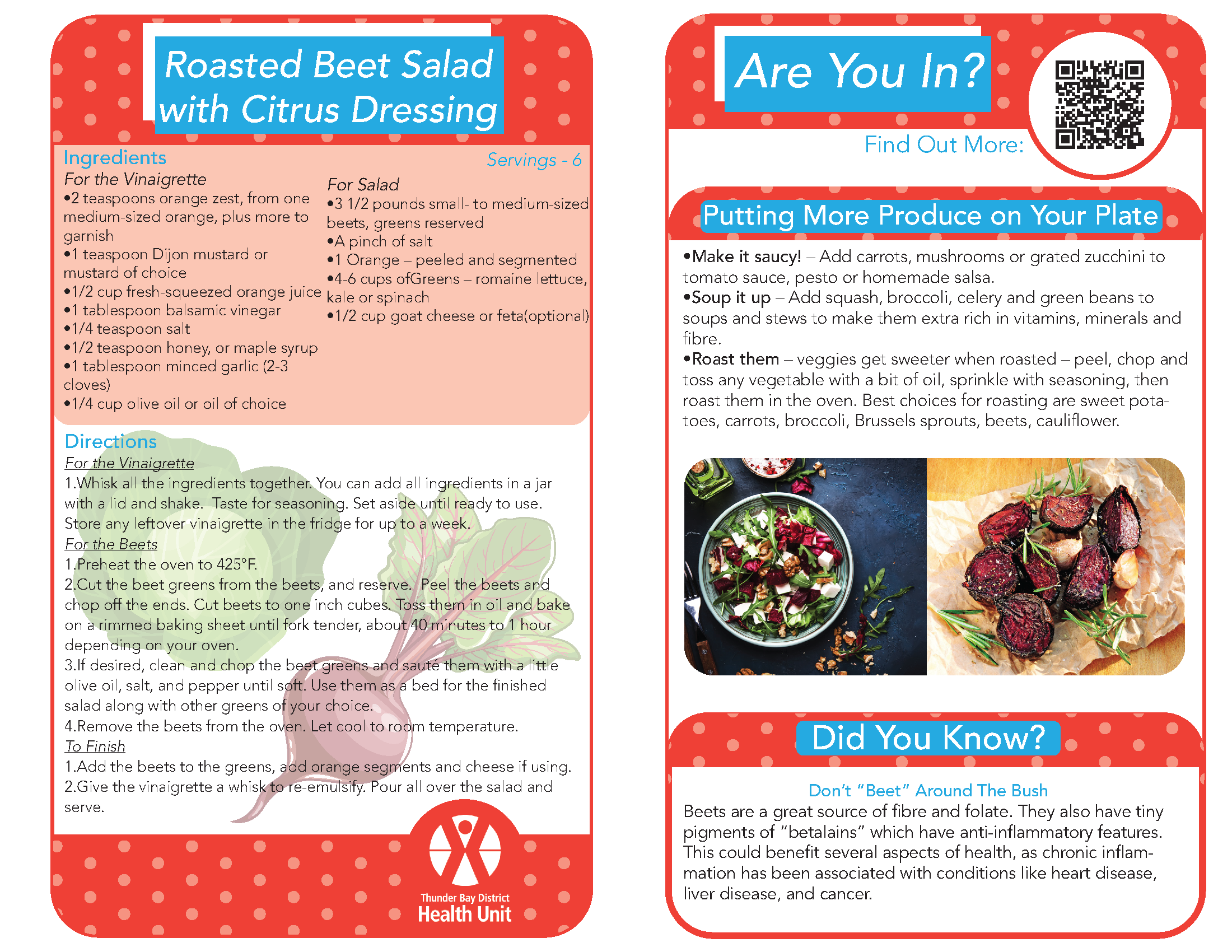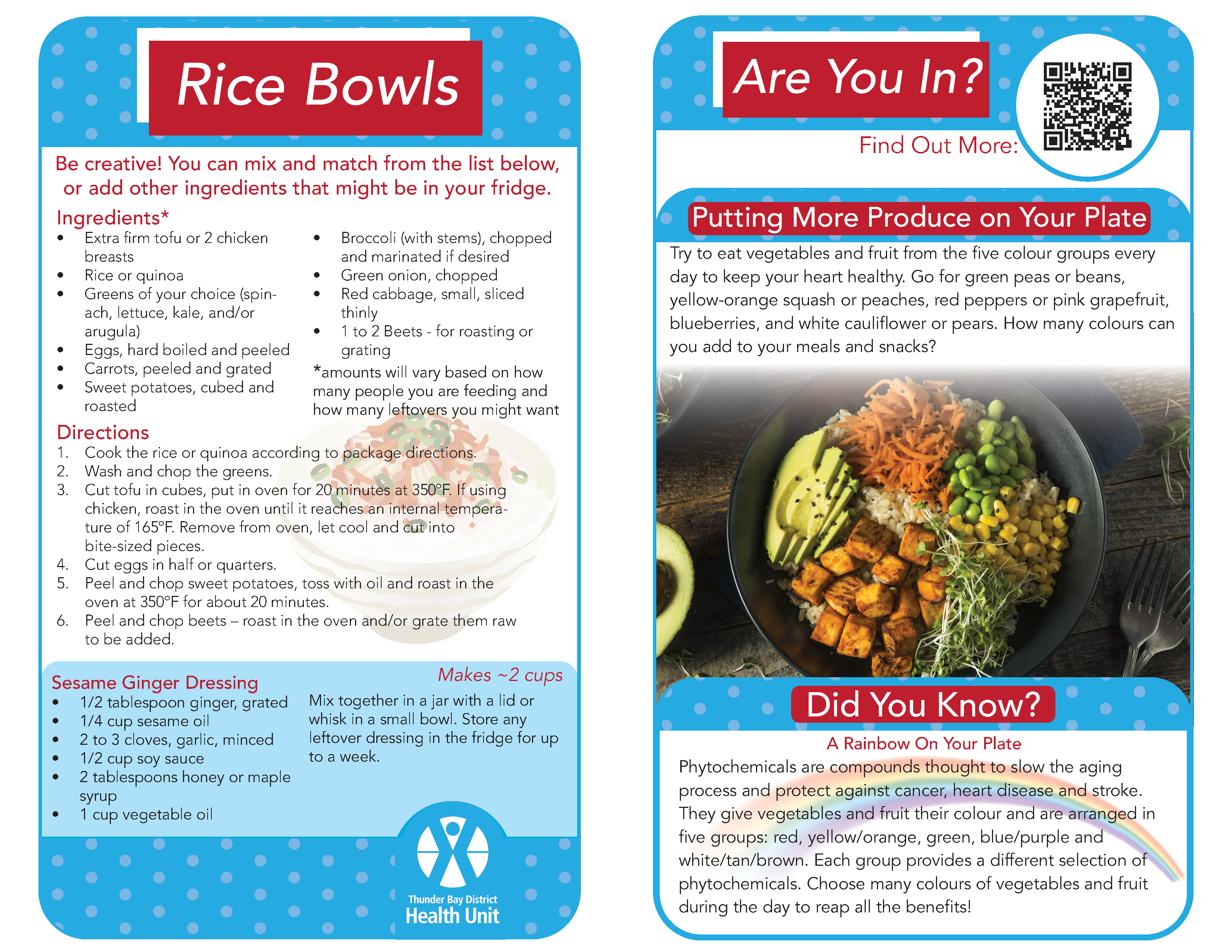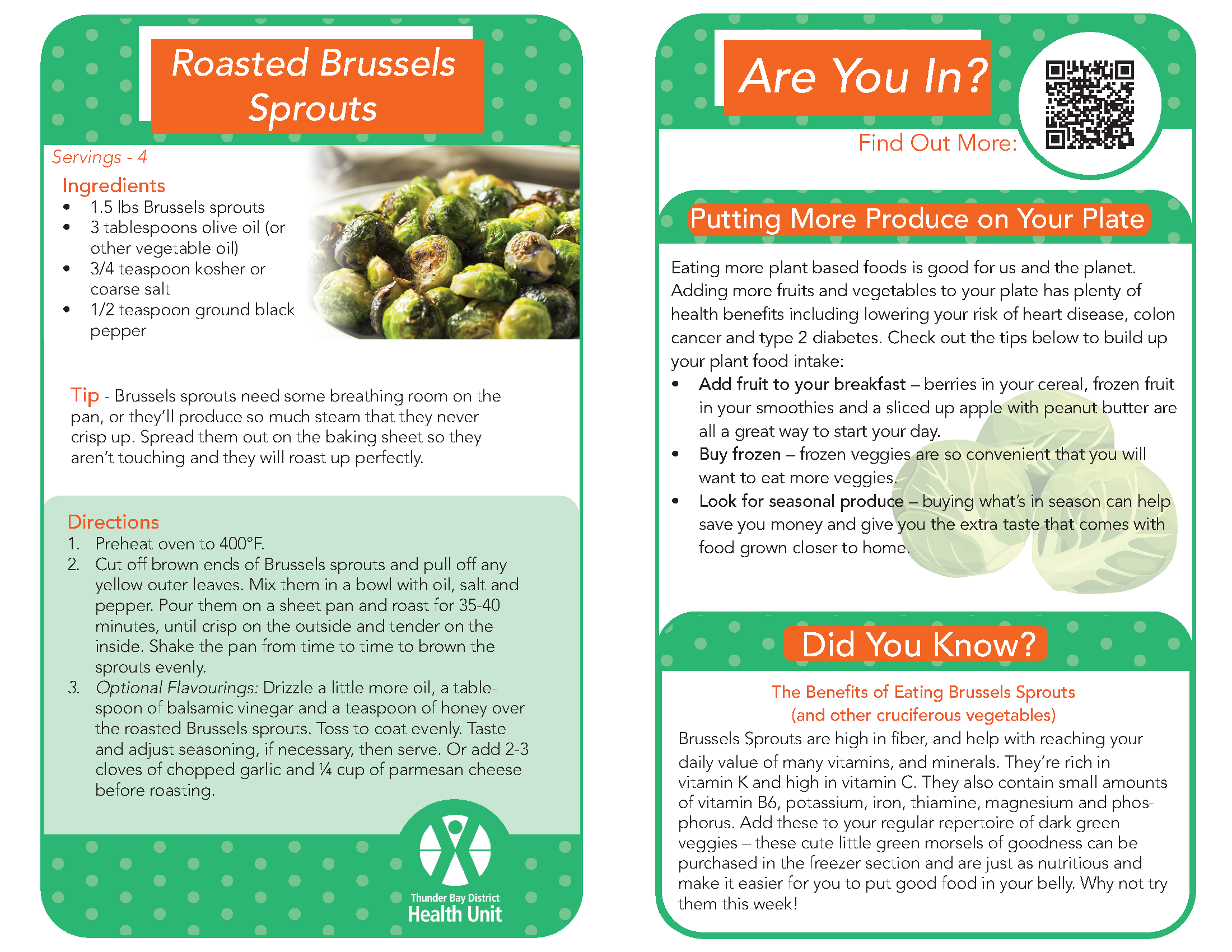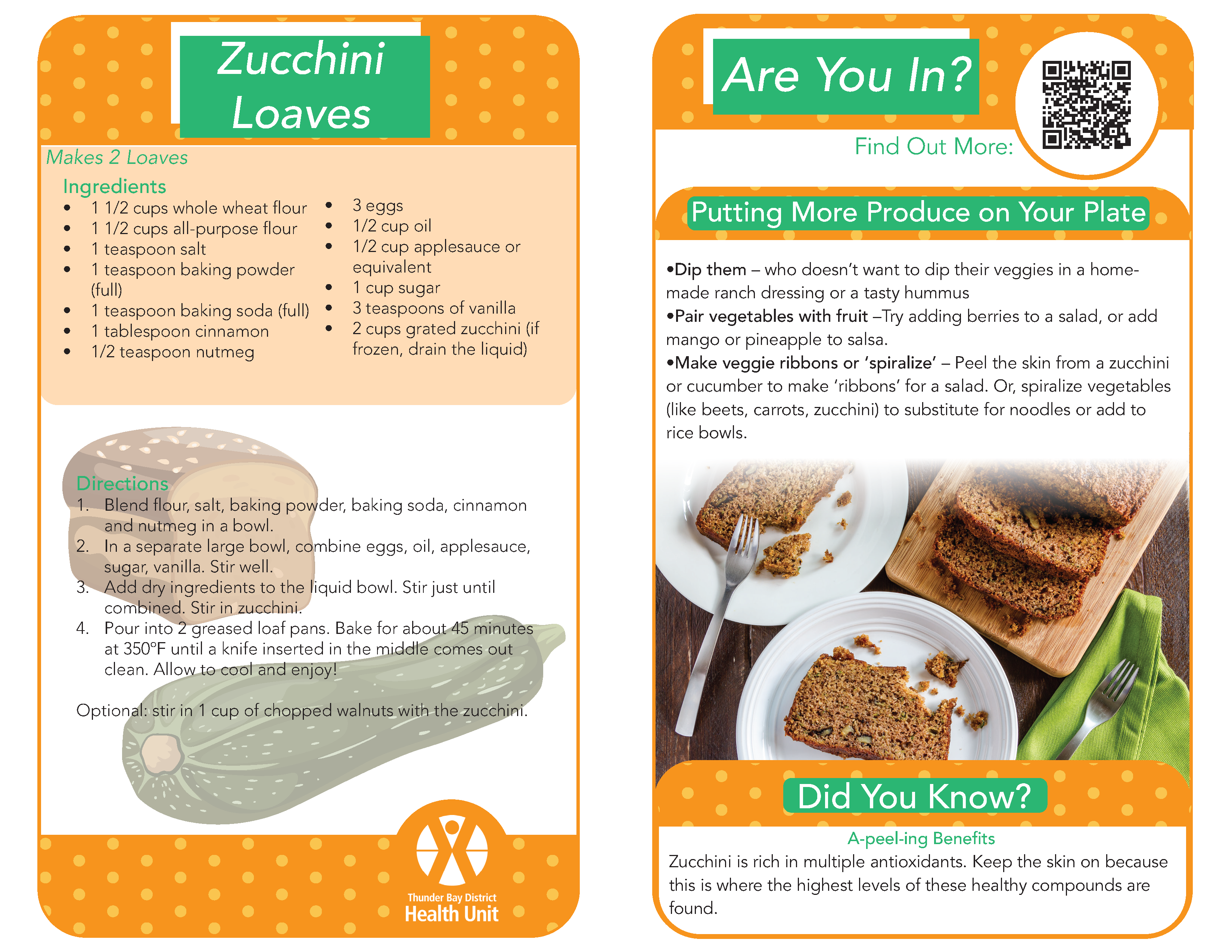 Fun Recipe Videos
Download PDF: bit.ly/tbdhupesto
Download PDF: bit.ly/tbdhufennel
Download PDF: bit.ly/tbdhukohl
Tips
Aim for half of your plate to be filled with veggies and/or fruit at meals and snacks
Add veggies to sauces, soups and other mixed dishes
Stock up on frozen vegetables when they are on sale so they can be easily added to your meal
Prepare a salad or chop raw vegetables ahead of time, so that it's easy to pack in your lunch the next day
Fast Facts
Fruit and vegetable consumption provides an important source of vitamins, minerals and fibre, which may reduce the risk of heart disease and some types of cancer (Reference: Statistics Canada)
Only 1 in 3 Canadians eat enough vegetables and fruit (Reference: Statistics Canada)
Fruit and vegetable consumption contribute to increased feelings of being full, which can help in reducing overall energy intake (Reference: Heart & Stroke Foundation)