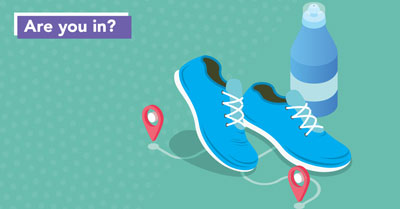 Congrats to our Sit Less winners, TBRHSC – Prevention and Screening Team!
In December 2017 we challenged workplaces around Thunder Bay and the District to our "12 Days of Sit Less Challenge!" participating workplaces had a chance to win a crock pot and a recipe book of healthy soups and stews to share! Eight workplaces participated with over 40 entries!
Check out the submissions in the 12 Days of Sit Less Facebook album.
Leave your chair, go for a quick walk, or take the stairs. A little activity goes a long way for better health!
Tips
If you work at a computer, set a desktop timer to remind you to move every hour.
Plan a walking or standing meeting.
Take an active coffee break – go for a brisk walk with coworkers instead of sitting.
Take a brisk 10 minute walk on your lunch break and then another after supper
Fast Facts
Physical inactivity is associated with poor health outcomes, including Type 2 diabetes, heart disease, and some cancers. (Reference)
Canadian adults spend about 10 waking hours a day sitting or being otherwise sedentary. (Reference)
Being sedentary can cause a decrease in physical health, mental health and productivity. (Reference)
Even if you meet the physical activity guidelines (150 minutes of moderate-to-vigorous physical activity per week) sitting for long periods of time is detrimental to health
If you sit for 50% of your waking hours per day, the risk of premature death increases by 11% (Reference)
Sitting for 75% of your waking hours per day, the risk of premature death increases by 36% (Reference)
Sitting for 100% of your waking hours per day, the risk of premature death increases by 54% (Reference)